Product Description
Aka Fat melting gel Onaka Hot Gel 300g extracted from natural herbal ingredients: lemongrass, ginger, lemon, … have a heating effect, thereby reducing fat, effective fat reduction but safe.
Gel applied to reduce fat there, so it will be suitable for all subjects who want to improve physique.
Gel The aroma of lemon lemongrass is extremely pleasant, creating a comfortable feeling when used.
Onaka Melting Gel is suitable for all subjects, effective only after 3-4 weeks.
Gel Onaka Hot Gel 300g Japan the most effective – Remove excess fat, help slim shape

Uses of Onaka Hot Gel 300g Japan
Japanese Hot Gel Onaka helps dispel excess fat accumulated on the body: Abdominal fat, biceps, thighs, butt ….
Quickly help you get in shape as slim as desired
Gel instantly heats the skin to break down fat, without overtraining or toxic medicine.
Gel penetrates well, does not cause uncomfortable sticky. Massage steadily and persistently you will have the desired body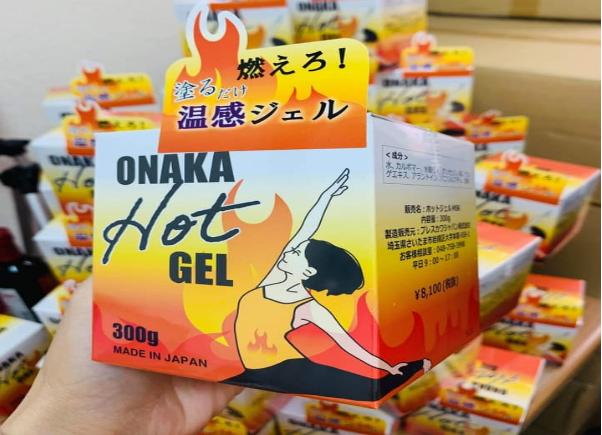 How to use
Wipe off moisture on clean skin after bathing before use.
Take an appropriate amount and stretch it around your waist, hips, thighs, and upper arms, and massage lightly.

Precautions
Please use it carefully to see if there are any abnormalities on your skin.
When it doesn't suit your skin, that is, next
In the case of (1) and (2), please discontinue use. Continued use may worsen the symptoms, so we recommend that you consult a dermatologist.
(1) If any abnormality such as redness, swelling, itchiness, irritation, color loss (white spots etc.) or darkening appears during use.
(2) When the skin used is exposed to direct sunlight and the above symptoms appear. There are individual differences in the feeling of warmth. When using for the first time, please try a small amount before using. If you feel it is too hot, rinse immediately. Do not use on areas with an abnormality such as a wound, swelling or eczema, face, mucous membranes, or skin immediately after hair removal. If you are pregnant or using this product for infants, it is recommended that you consult with your doctor in advance, with due consideration.