PRODUCT DESCRIPTION
Bifesta's new Unique refined Micellar technology uses micelles of the smallest size ever for the most effective and gentle cleanse. It promises lesser number of wipes, time and force to remove all makeup impurities in existing Bifesta range
Incorporating an Advanced Double Impurities-floating function, it quickly blends and lifts off the toughest makeup impurities effortlessly.Improved gentleness and moisture for skin
New cleansing ingredients eliminated makeup with no rubbing or tugging on delicate skin, protecting the skin with lesser wipes and friction.
Coupled with the original formula of cleansing ingredients derived from beauty lotion, this cleanser boosts skin's hydration while cleansing.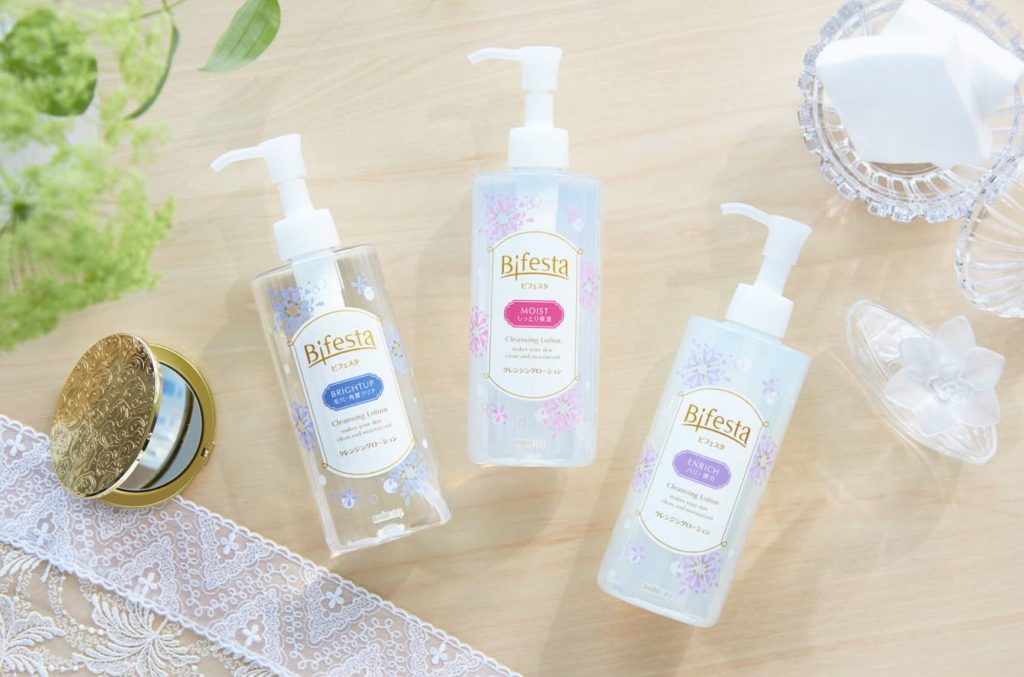 Bifesta Cleansing Lotion 300ml – 4 Types
Bifesta Cleansing Lotion BRIGHT UP : Contains ingredients which removes dead skin cells & dirt from pores & improve skin clarity. Suitable for combination skin.
Bifesta Cleansing Lotion ACNE CARE : Contains active ingredients to help to prevent skin from acne and roughness problem for a healthier skin condition. Suitable for acne skin.
Bifesta Cleansing Lotion ENRICH : Contains ingredients which provides rich moist and leads to sleek, bouncy and elastic skin. Suitable for dry skin.
Bifesta Cleansing Lotion MOIST : Contains amino acids & hyaluronic acid, two types of moisturizing ingredients for high moisturizing effect & retain skin moisture. Suitable for normal & dry skin.

BENEFITS
3 in 1 Beauty Benefits: Removes makeup, tones & moisturizes in just one step without rinsing
Thoroughly removes makeup without scrubbing your skin, effective yet gentle to skin
Its enhanced cleansing capability removes dead skin cells during makeup removal to improve skin texture and clarity over time.
100% oil-free formulation leaves skin perfectly clean, refreshed and soothed without any greasy or sticky feel for irresistibly dewy and hydrated skin
Contains Green tea extract to tighten pores and eliminated excess sebum and impurities from pores
Free of harsh chemicals, artificial perfumes and dyes, it is gentle for all skin types, even sensitive skin.Reveals skin clarity with a refreshing feel
Hypoallergenic. Oil-free. Colourant-free. Fragrance-free. Paraben-free. Alcohol-free.

HOW TO USE
Thoroughly soak cotton with lotion (about 3 pumps per cotton) and wipe makeup away gently.
Change cotton & repeat until cotton remains on eye area for a while before wiping off.
When removing eye makeup, gently hold cotton on eye area for a while before wiping off.
Take care not to let product get into your eyes. Double cleansing with facial foam is not required.
Precautions :
Keep eyes closed to avoid contact while cleansing. If contact occurs or if there is any discomfort, please rinse with water immediately.
Keep out of reach of children.
Store in a cool place.Be cautious not to let product get into your eyes.
It may take a while to thoroughly remove waterproof mascara.  For faster removal, do try Bifesta Eye Makeup Remover instead.

Major Ingredients:
Water, DPG, polyglyceryl laurate-10, polyglyceryl caprylic acid-3, PEG-6 (caprylic acid / capric acid) glyceriz, PPG-14 diglyceryl, PEG-400, bisglyceryl ascorbic acid, hyaluronic acid hydroxypropyl trimonium, Lactic acid, Glycerin, Myristoyl glutamate Na, Citric acid Na, EDTA-2 Na, Citric acid, Cocoyl Arginine Ethyl PCA, Phenoxyethanol