Product description
The Ion De Cushion Cover is a unique liquid foundation housed in a convenient compact from popular Japanese beauty brand FLOWFUSHI.
Seamlessly blending with a sheer, buildable coverage, the virtually weightless formula offers an 'Ion Protect System' to neutralise fine particles, combat free radicals and protect against blue light exposure, while a proprietary
End Mineral anti-ageing complex delivers essential nutrients to help keep skin feeling firm and toned.
Complete with SPF 30 PA+++ protection (Asian UVA rating system) for additional defence against sun damage, the foundation leaves your complexion with a luminous, dewy finish.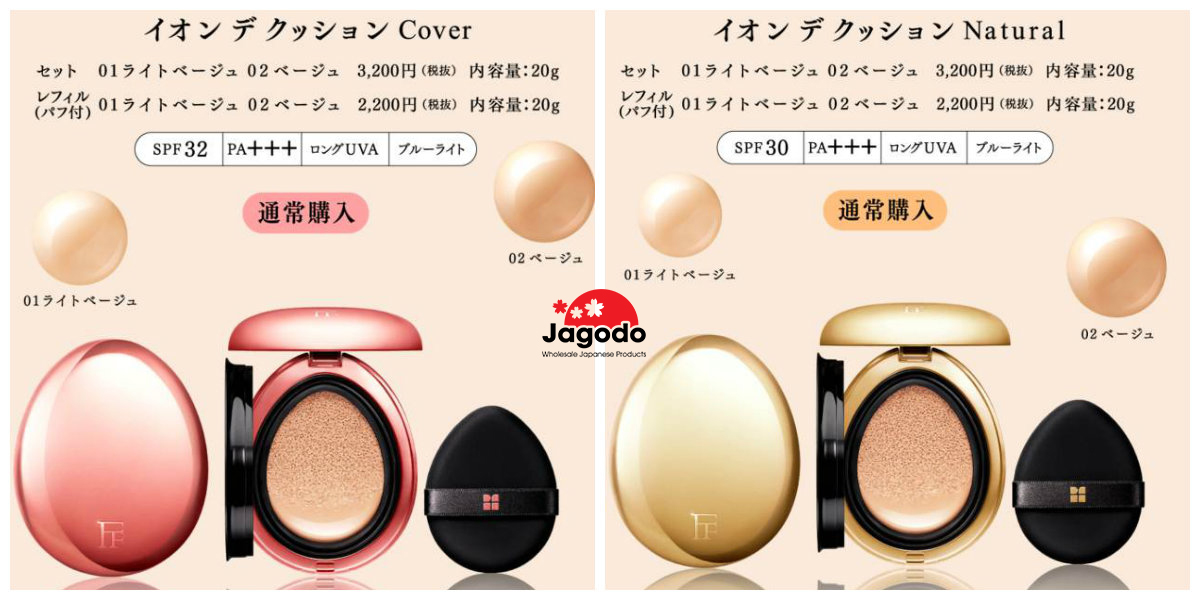 Benefits
It can be worn straight after your toner, acting as a 6-in-1 moisturizer, primer, foundation, sunscreen, anti-aging care, and ion protection.
It blocks UVA and UVB, as well as Blue Light, PM2.5, pollen allergens, smoke, pollution, and other external pollutants.
Available in Cover and Natural, in colors 01 Light Beige and 02 Beige.
Cover: higher coverage, less glow SPF 32 PA+++
Natural: lower coverage, more glow, lighter feel SPF 30 PA+++
Hydrating, anti-aging ingredients.
Protects against UVA & UVB rays, as well as Blue Light to protect against "smart phone tanning/damage"
Blocks PM 2.5 and pollen allergens, smoke, pollution, and house dust.
20g, large for a cushion foundation.
Refill includes 1 refill and 1 puff, without case.
How to use
Compete your usual skin care routine, with the last step being a sun care product or a primer.
Gently press the puff applicator onto the sponge "cushion" that is soaked in foundation.
Use a soft pat pat pat motion with the puff to apply the foundation swiping or dragging the products over the face.
Starting applying foundation from the centre of the face and work your way outwards, as the t-zone tends to be the area that needs the most coverage.
If any area needs more coverage simply keep gently patting the foundation onto the skin only in these areas, using the puff to blend and ensure even coverage.
Put your Ion de Cushion compact in you bag for quick and easy touch up's throughout the day.
Ingredients
Ion de Cushion is a cushion compact foundation that delivers a natural, light coverage on the skin with a luminous, dewy finish. The formula is pack with naturally derived skin care ingredients including:
shea butter, jojoba and squalene (moisturising the skin)
algae extracts (antioxidant)
liquorice root (brighten skin)
mineral powders (naturally brighten skin