Product description
Fucoidan, the key ingredient present in marine brown seaweeds, was first isolated in 1913 by Professor Kylin of Uppsala University in Sweden. He originally paved the way to this fascinating and 100% natural ingredient :
Mozuku extract fucoidan
Mekabu extract fucoidan
Powdered Agaricus mycelium extract
Vegetarian capsule consisting of HPMC
Fucoidan Umi No ShizukuTM is a premium dietary supplement that incorporates high quality natural ingredients selected for their demonstrated ability to meet the targeted general health and well-being goals. Umi No Shizuku offer the highest concentration of Fucoidan than any other product on the market. We continue to collaborate with NPO Research Institute of Fucoidan and Kyushu University in Japan to extend scientific research of Fucoidan's health benefits.

Benefits
Support for the prevention and treatment of cancer
Strengthening immunity
Preventing cancer cells from forming new blood vessels
Regulate blood pressure
Slowing the aging process and limit & prevent disease in older age
Suitable for vegetarians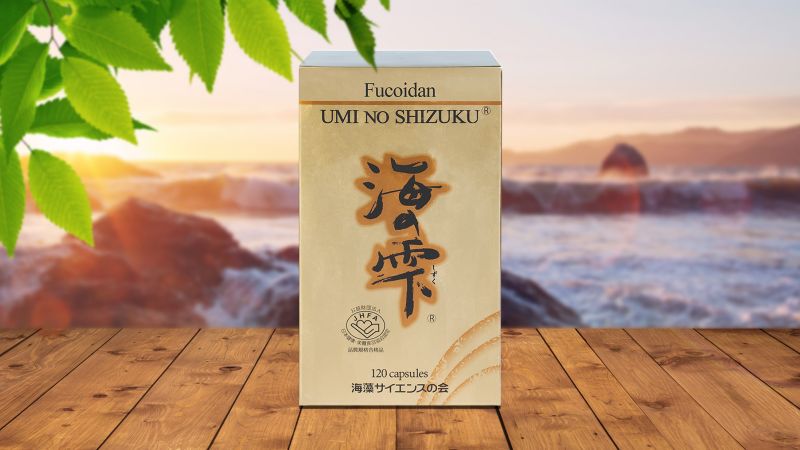 How To Use
Take the capsule(s) with cold or warm water. UMI NO SHIZUKU capsule-type is a nutritional supplement containing the best Fucoidan extracted from Okinawa Mozuku and Mekabu, and is thoroughly blended with powdered Agaricus mycelium. This extract mix is contained in a vegitarian capsule.
Note : Keep out of reach of children. Avoid storing in extreme temperatures or under direct sunlight