Product Description
Urarashiro pearl barley UV Milky Gel 250ml is a sunscreen lotion of natural moisturizing pearl barley extract combination.
The whole family in everyday use SPF 50+/PA+++. Crystal-clear to the fresh skin. In moisturizing pearl barley extract and hyaluronic acid, it protects the skin from drying and ultraviolet rays.

Benefits
"Rei white pearl barley UV milky gel 250ml" is a sunscreen lotion with natural moisturizing pearl barley extract.
SPF 50+/PA+++ that can be used every day by the whole family
To fresh and fresh bare skin
Contains moisturizing pearl barley extract & hyaluronic acid to protect your skin from UV rays and dryness.
Gel type that is gentle on your skin and stretches quickly.
No need for special cleansing and can be washed off with soap.

How to use
After showering and drying, take a sufficient amount of lotion to your palm and rub it all over your body.
Pay more attention to dry skin areas such as knees, elbows and heel.
Using your hand to massage in a circular motion.
Pat your skin to help me nutrient penetrate deeper.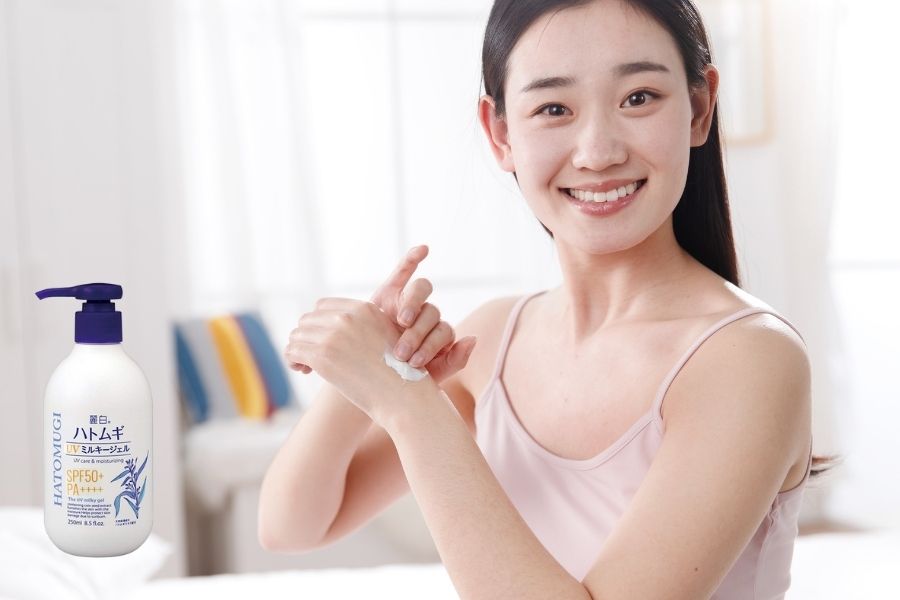 Ingredients
Water, ethanol, ethyl methoxyl methoxycinnamate, BG, DPG, dimethicone, steareth-6, octocrylene, hexyl diethylaminohydroxybenzoylbenzoic acid, carbomer, (acrylate / alkyl acrylate (C10-30)) crosspolymer, mineral oil