Product Description
As estrogen production decreases with age, menopause and menopause may occur, which may lead to unpleasant physical and mental symptoms called "menopause." Soy isoflavones make up for the estrogen deficiency and prevent problems.
Inner Supple , which is made from daidzein, a soy isoflavone, maintains women's youthfulness and vitality. Women in middle age may begin to see signs of aging in their bodies, and equol helps to counteract those signs so you can be at your best every day!

Features
Inner Supple is a component produced by the action of intestinal bacteria based on soy isoflavone.
It contains soy isoflavones of aglycone type (the sugar off state) which is said to be good absorption as a hormone countermeasure.
In addition, it contains fermented ginseng extract as an uplift material.
Promotes skin metabolism
Enjoys glossy and beautiful skin
Develops subcutaneous fat such as bust and hips and leads to a feminine rounded body
It is beautiful and cheerful every day.
Easy-to-carry package type to keep drinking Deliciously with lychee flavor.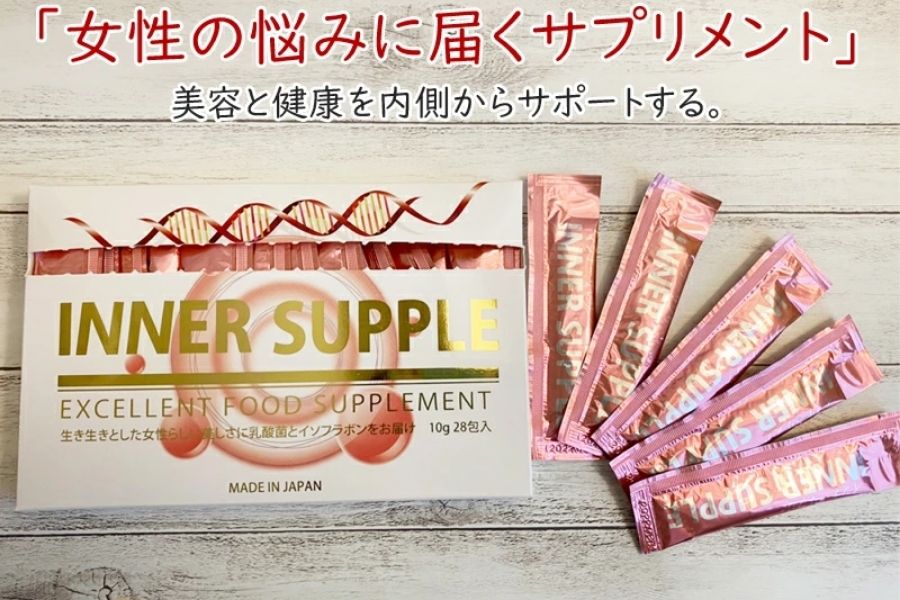 How to use
Take 1 packet daily as a guide.
Note
Please keep out of reach of children.
If you do not meet your physical condition or if you are not feeling well, please discontinue use.
If you are being treated for a disease, consult your doctor before consuming.
Do not use if you are pregnant or nursing infants or children.
If you are allergic, please refrain from using it.

Ingredients:
Soy isoflavone (domestic production), dextrin, lactic acid bacteria mixed powder, lactose / fragrance, acidulant, thickener (xanthan gum), preservative (sodium benzoate), sweetener (acesulfame potassium, sucralose, stevia) (1) Includes soybeans and dairy products)