Product Description
Sweat-proof BB gel UV for your summer skin
Useful as a base makeup in summer to prevent your makeup from running.
Natural ton-up color and UV cut effects last long even when you sweat.
This one item can be used as UV cut, moisturizing, base makeup, and natural cover.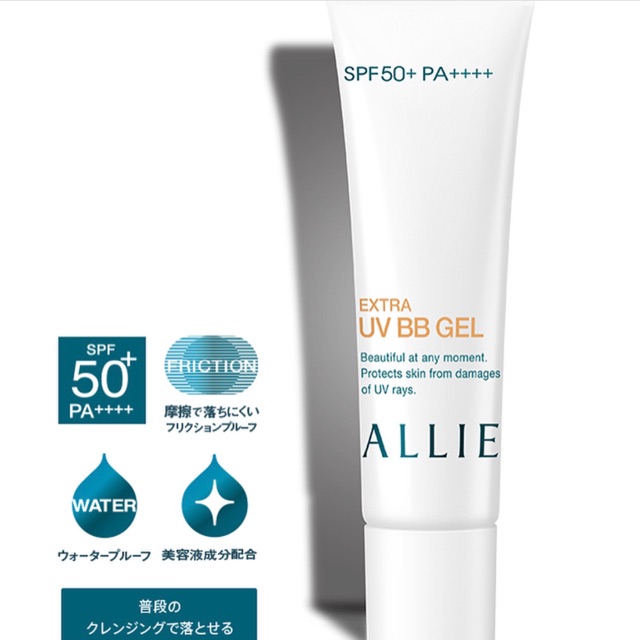 Features:
Adopted "Friction Proof" function which is resistant to friction and rubbing.
Fit to the skin with a fresh feeling freshly and cover the pores quickly.
BB gel which keeps beautiful make-up which is hard to collapse on a water base
◇ Water proof compatible
◇ Compatible with friction and rubbing resistant friction proof
◇ essence ingredients (moisturizing) formulation
Hyaluronic acid + collagen
◇ Gently drop off with usual cleansing
◇ Flavor Free Paraben Free

How to use
After preparing your skin with basic cosmetic products, gradually and gently blend in an appropriate amount little by little from the center of the face towards the outside.
When the amount used is small, sufficient UV protection effect can not be obtained.
When you want to further coat, please use a foundation and a powdery powder.
To keep the effect, when you wipe your skin strongly with a towel etc, please redundantly.
Be careful not to touch clothing or accessories directly, please wear clothes after drying.
After use, please close the cap properly.
The entire face is about 1.2 cm in diameter.
Please wash off carefully with your makeup cleansing.