Product description
Kobayashi Inochi no Haha A is a supplement for women with hormone balance disorder or autonomic nervous disfunction specially during menopause.
This Japanese supplement features 13 different types of natural components and 11 vitamins along with calcium and other minerals.
Supports women wellness by warming the body and promoting circulation.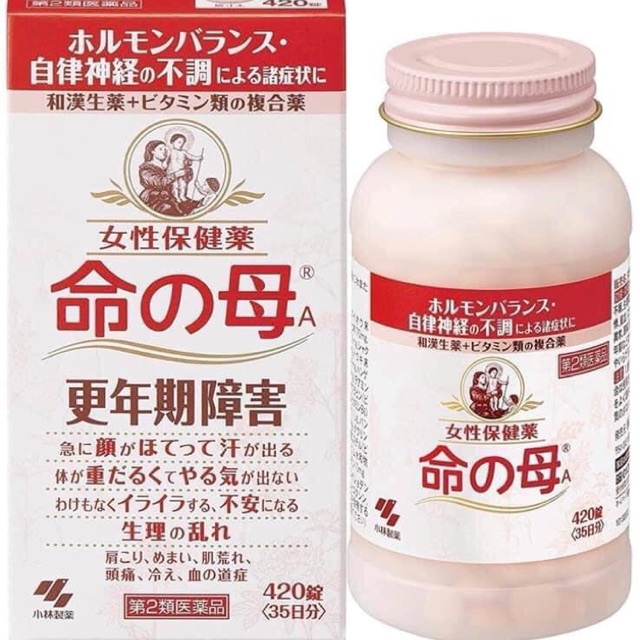 How to use
Recommended dosage is 3 times a day after meals and 4 tablets each time.
Take the tablets with water or warm water.
Do not consume if you are less than 15 years old, pregnant, lactating, have allergy or weak stomach.
Stop taking them if you experience any irregular condition.

Active Ingredients
Daily dose (12 tablets) in
Rhubarb end: 175mg, valerian end: 207mg, cinnamon powder: 170mg, Sinensis end: 100mg, sōjutsu end: 100mg, peony end: 300mg, Bukuryou end: 175mg, angelica end: 300mg, Koubushi end: 50mg, tetradium ruticarpum: 40mg, Hange : 75mg, carrot: 40mg, effect: 50mg, thiamine hydrochloride: 5mg, riboflavin: 1mg, pyridoxine hydrochloride: 0.5mg, cyanocobalamin: 1μg, calcium pantothenate: 5mg, folic acid: 0.5mg, amino ethyl sulfonic acid (amino ethyl sulfonic acid (taurine)): 90mg, succinic acid dl-α- tocopherol (vitamin E): 5mg, Parukaruku: 10mg, biotin: 1μg, soya lecithin: 10mg
Silicic acid Al as an additive, stearic acid Mg, shellac, talc, carbonate Ca, titanium oxide, potato starch, gelatin, white sugar, Erythrosine, Ponceau 4R, Sunset Yellow FCF, beeswax, containing carnauba wax