Product description
A follow-up milk that supplies nutrients in a good balance, such as iron and calcium, that infant children of about 1 year and older tend to lack. With fortified lactoferrin and DHA, which are important for the development of children.
Suitable Age Around 1 – 3 years old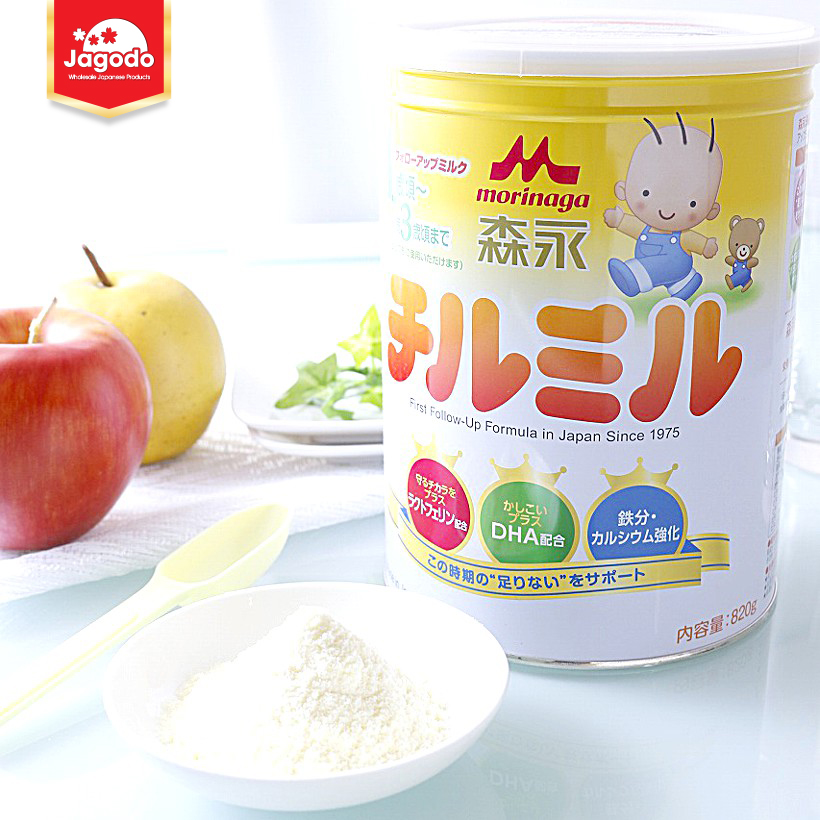 How to use
[How to drink the milk] ※ Wash your sure hands before making the milk.
● use the amount of standard milk, please refer to the table of the lid. In accordance with the development of children, please adjusting the amount and the number of milk.
● and Reconstituted one by one time, please do not give leave to make every and drink. [How to make of dissolved How / 200ml of milk] ※ leveling 1 teaspoon (about 5.6g) is finished amount 40ml.
(1) hot water cooling to about 50 degrees put about 100ml in a cup (or baby bottle).
(2) Put the required amount of milk (leveling 5 spoon) in the accompanying spoon, dissolve well.
(3) finished amount of hot water added until (200ml), and mix lightly.
Please use a dedicated spoon that are always included in cans
● dissolves in water.
● You can also drink delicious with a seasoned with a small amount of cocoa by your choice.

Materials / Ingredients
Ingredients : Lactose, dextrin, prepared oils (palm oil, palm kernel oil, soybean oil, canola oil), whey powder (whey protein), casein, skimmed milk powder, protein concentrated whey powder, buttermilk powder, lactulose, galactooligosaccharide liquid sugar, purified fish oil, raffinose, casein digest, potassium citrate, magnesium chloride, tricalcium phosphate, tripotassium phosphate, lecithin, trisodium citrate, calcium chloride, potassium carbonate, dipotassium hydrogenphosphate, vitamin C, lactoferrin, potassium chloride, ferric pyrophosphate, citric acid, vitamin E, nicotinamide, calcium pantothenate, vitamin D3, sodium cytidylate, sodium inosinate, vitamin A, sodium guanylate, sodium uridylate, vitamin B6, 5′-adenylic acid, vitamin B1, vitamin B2, folic acid, β-carotene, vitamin B12
Nutritional Information : Energy: 460kcal, protein: 14.0g, fat: 18.0g, carbohydrates: 61.0g, sodium: 230mg, vitamin A 500μg, vitamin B1 0.7mg, vitamin B2 0.8mg, vitamin B6 0.75mg, vitamin B12 1.4μg, vitamin C 60mg , vitamin D 4.7μg, vitamin E 5.4mg, vitamin K 27μg, calcium 720mg, phosphorus 380mg, potassium 720mg, magnesium 90mg, iron 8.5mg, niacin 6.2mg, folic acid 130μg, pantothenic acid 5mg, β- carotene 42μg, linoleic acid 2.5 g, α- linolenic acid 0.4g, docosahexaenoic acid (DHA) 75mg, lactoferrin 55mg, phospholipids 300mg, sphingomyelin 46mg, nucleotide 6mg, lactulose 400mg, raffinose 300mg, galactooligosaccharides 300mg, chlorine 540mg, ash 4.0g, moisture 3.0g