Product description
Propolinse Mouthwash is a natural mouthwash formulated by a Japanese company. It contains catechin from green tea extract and propolis from honey. It will help you maintain good dental hygiene by removing bacteria, bad breath, plaque and at the same time brightens teeth and prevents tooth decay.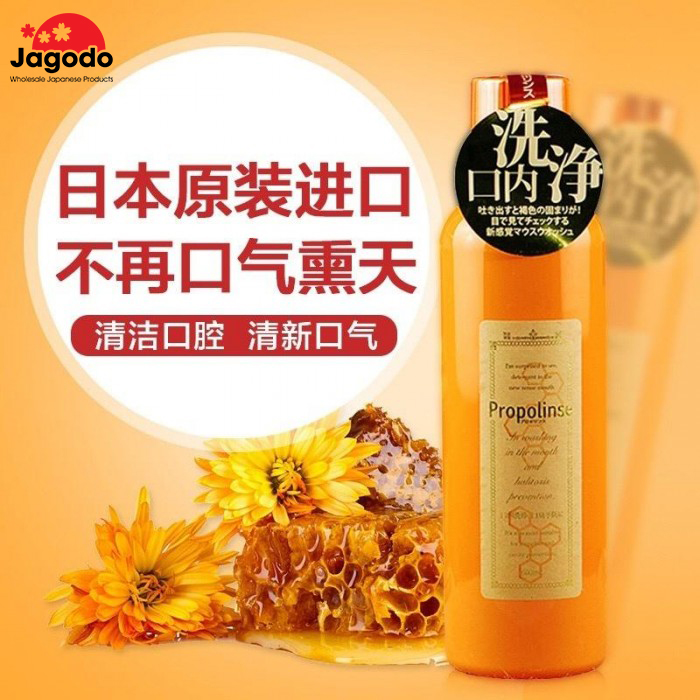 Product features
Propolinse japanese mouthwash contains beeswax & tea extract, light refreshing flavor – a mixture of mint and plum, helps clean up the cigarette's grip, prevents bad breath, cleanses teeth daily Prevent gingivitis.
It only takes 20-30 seconds to make sure our breath after rinsing will be fragrant, and there is no smell when breathing.
Separating food plaque, long-time tobacco plaque is only about 20-30 seconds.
Kill bacteria, clean teeth every day, prevent gingivitis and other dental diseases.
Prevent bad breath, prevent plaque help teeth bright white and fresh breath.
Prevent tooth decay
The fresh aroma is pleasant and refreshing.
Using the Propolinse Japanese Mouthwash, you will not need to get tartar, do not cause tooth sensitivity, cost savings ..
How to use
Include an appropriate amount of 10 to 15 ml (cap half position) in the mouth, rinse after 20-30 seconds rinse.
Close the cap tightly after use.
Ingredients
Water, ethanol (solvent), glycerin (wetting agent), citric acid, citric acid Na ・
Malate (pH regulator) PEG -60 hydrogenation castor oil (solubilization agent), tea leaf extract ・
Propolis extract xylitol menthol saccharin Na (flavor agent),