Product description
It is a cardiovascular drug that contains diprophylline, rutin hydrate, sodium chondroitin sulfate, innosit, etc., mainly containing extracts obtained from 12 kinds of crude drugs. It improves symptoms such as edema, shortness of breath, and insomnia.
Since it is a sugar-coated tablet, it is easy to take.
For hypertension, arteriosclerosis, edema associated with congestive heart failure, swelling, shortness of breath, insomnia, etc.

How to use
Take the following dose with water or hot water between meals.
Adults (18 years old and over) ・ ・ ・ 3-5 tablets, 2-3 times a day
Under 18 years old … Do not take
* Please observe the dosing time. (Between meals: Refers to fasting 2-3 hours after meals.)
★ Precautions related to usage and dosage
・ Please strictly observe the usage and dosage.

Precautions for use
・ Do not take any of the following medicines while taking this drug.
Cardiotonic, asthma, anti-drowsiness
・ People who are breastfeeding should not take this drug or should avoid breastfeeding when taking this drug.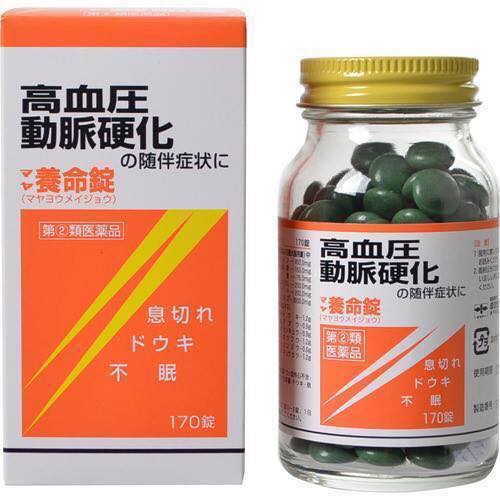 Ingredients / quantity
Dyphylline ・ ・ ・ 450mg
Rutin hydrate ・ ・ ・ 150mg
Nicotinic acid ・ ・ ・ 75mg
Sodium chondroitin sulfate ・ ・ ・ 200mg
Inositol ・ ・ ・ 200mg
Maya Yomei-to extract ・ ・ ・ 3000mg
* Extract refined from the following crude drugs
(Kyonin, Keihi, Shakuyaku, Maou, Senkyu 0.9g each, Carrot 0.3g, Daiou, Shokyo, Kanzo 0.6g each, Touki, Siler, Kyokatsu 1.2g each) Additives: Cellulose, AL hydroxide, Mg stearate, Copper chlorophyllin Na, gum arabic, gelatin, sucrose, Ca carbonate, talc, cellac