Product description
Re'senza Premium NMN Essence is a face serum that promotes skin rejuvenation by introducing the latest anti-aging ingredient NMN (nicotinomide mononucleotide), and Moisturizing ingredients (CoenzymeQ10 /Fullerene /Elastin /hyaluronic acid) into the deep layers of the dermis.
By supplementing NMN, the serum promotes the regeneration of natural moisturizing factors (NMF) and it has been recognized for its function for better firmness and luster and is thought to improve the condition of your skin.

Features and Benefits
NMN (nicotinamide mononucleotide) is decrease with aging, it will eventually appear as aging signs such as "wrinkles" or "slack".
Supports youthful and radiant skin by delivering NMN that is lost due to aging directly to the skin!
Supports skin renewal as it ages.
Smooth fine wrinkles and make skin firm and elastic
Alcohol-free, paraben-free, synthetic colorant-free, fragrance-free. Paraben-free, which is good for sensitive skin, and does not use synthetic coloring agents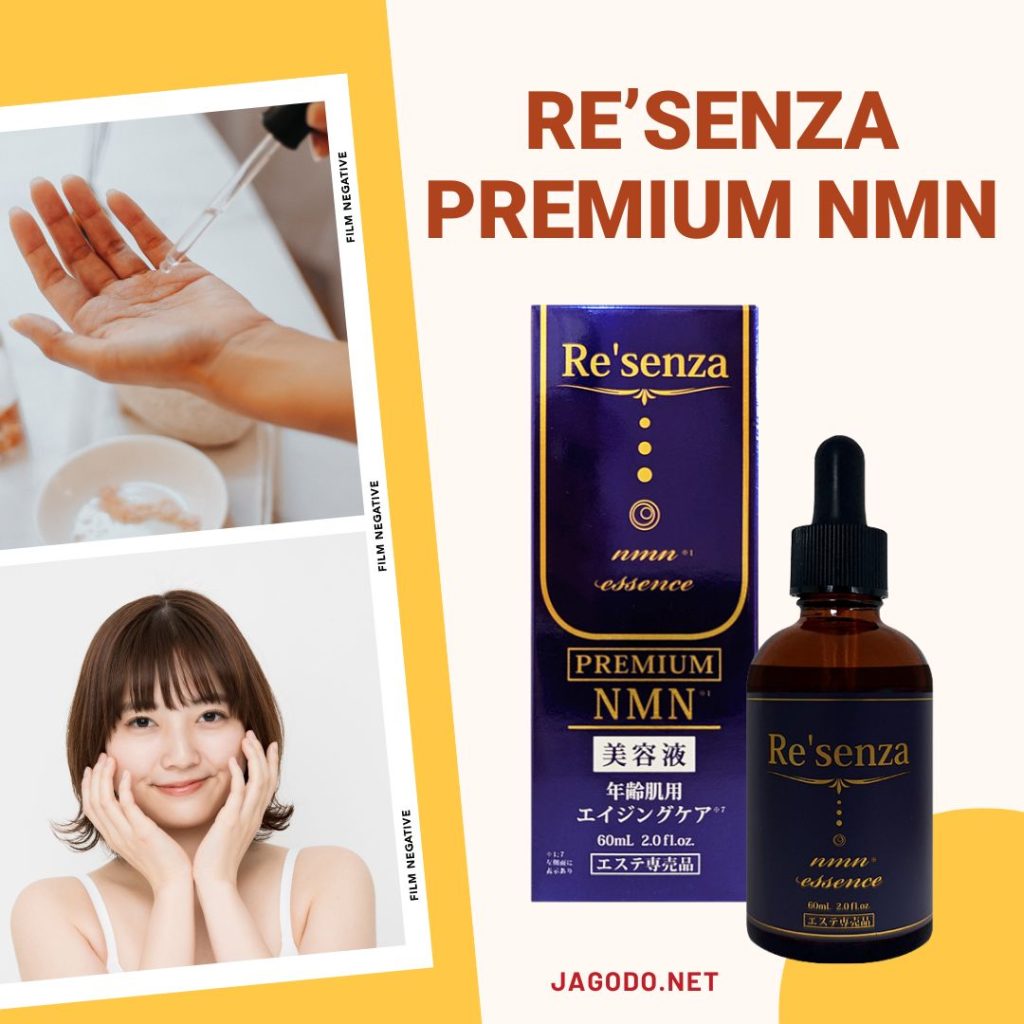 Recommended for
Those who wish to stay youthful forever
Those with concerns about the firmness and luster of the skin
Those who are worried about spots, wrinkles, and sagging
How to use
After washing your face, use it after preparing your skin with lotion.
[STEP 1] After the lotion, take an appropriate amount with a dropper in the clean palm (cherries large)
[STEP 2] Match the palm and warm it at body temperature. (10 to 15 seconds)
[STEP 3] Make the whole skin gently and flourish. Especially on the parts you care about.
Precautions
Be careful not to get this in your eyes. If it gets in your eyes, rinse thoroughly immediately without rubbing.
Keep tightly closed in a cool and dry place out of direct sunlight
Please keep out of children's reach
Close cap tightly after use.

Ingredients
Water, BG, Glicerin, Methyl Gurcess -10, Ziglycerin, Nicotine Amide Mononnonu Leotide, Niacin Aimide, Human Genetic Model Oligopeptide -1, Fulleren, Ubarenon,
Ceramide NP, Ceramide AP, Na Hyaluronic acid Na , Hydrolyzed collagen, hydrolyzed elastin, alantoin, glycyrrhizic acid 2k, 2k, polyclichelinium -51, grico sille trail, hydrolyzed water adding depin