Product description
Shiseido Pure White has an eighteen year history starting from 1998 and has become the gold standard of whitening supplements in Japan.
Shiseido Pure White contains wolfberry (goji berry) extract, an edible nutritious berry, which is a good source of vitamin C, lycopene, thiamine, amino acids and antioxidants. These nutrients and antioxidants protects the skin from harmful UV rays that causes skin damage and darkening.

Benefits
Shiseido Pure White helps to prevent the appearance of freckles and maintain a healthy translucent skin.
This Japanese whitening supplement contains oriental beauty ingredients such as lycium chinense fruit (goji berry) which has been known to be good for beauty and health since ancient times.
In addition to lycium chinense fruit, Pure White supplement features lychee seed, adlay, chrysanthenum, chamomile and oil palm which have excellent compatibility with your skin to bring out all the shine, beauty and translucence.
Vitamin C and vitamin E are also added for their brightening and antioxidant properties.

How to use
Recommended dosage is 8 tablets per day.
Take the tablets with water without chewing.
Perfect for those who are often exposed to UV and those who want to take vitamin C regularly.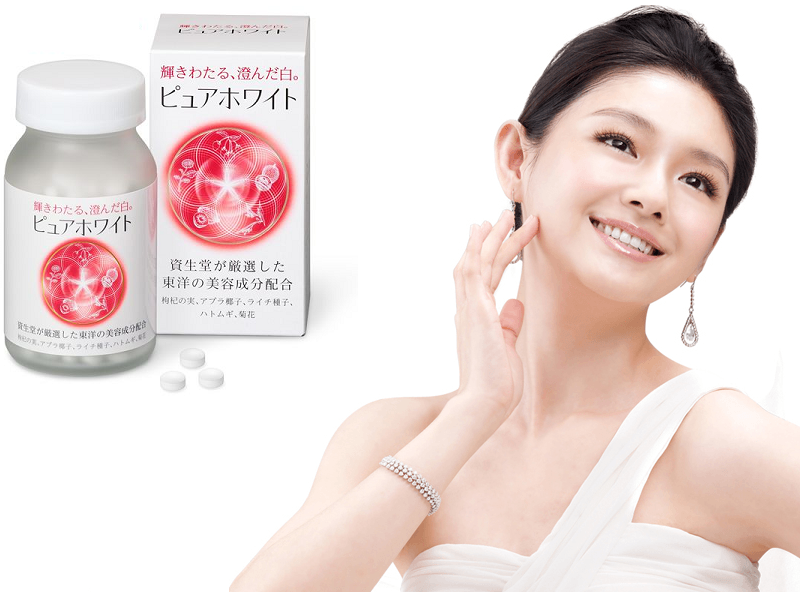 Ingredients:
Asian Goji Berries, Elaeis guineensis oil, Litchee seeds extract, Pearl Barley extract and Camomile extract. Also added extra Vitamin E has antioxidant properties.
NUTRITION COMPONENT PER 8 TABLETS (2.72 G)
Wolfberry fruit extract: 1,500 mg (equivalent to 2,550 mg)
Tocotrienol: 7.5 mg
Lychee seed extract: 50 mg
Gum arabesque extract: 25 mg
Chrysanthemum extract: 5 mg
Vitamin C: 500 mg
Vitamin E: 1.8 mg