Product description
SHU UEMURA Eyelash Curler. Best selling eyelash curler in Japan. Comes with one replacement rubber. The emblematic Shu Uemura Eyelash Curler featuring enhanced design and upgraded features for ultimate precision that delivers the perfect curl: Upgraded silicone pad in a new 'mushroom' shape provides a protective, stay-put edge for improved safety and optimum curl. Upgraded patented hinge with precise engineering applies the perfect amount of pressure on eyelashes. Curved angle suits all eye shapes. Calculated shape and size of frame length and ergonomic handles ensure stability and control.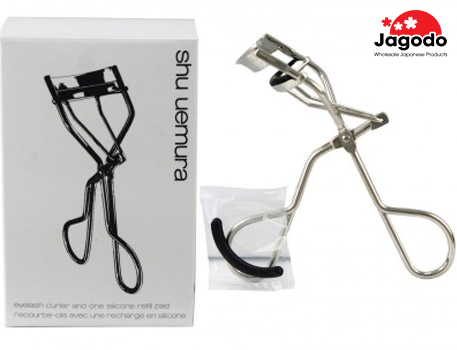 Product Features
The award winning Shu Uemura eyelash curler is adored by makeup artists and celebrities worldwide.
The curler's high performance and innovative create a natural, beautiful curl with ease.
The uniquely curved design allows it to fit various eye shapes and prevents it from pinching the skin.
The shape of the silicone pad gives an elongated sweeping curl instead of the harsh crimped look.
The durable hinge at the center of the curler regulates the amount of pressure applied to the lashes which ensures the utmost safety.
How to use
Open the curler and position the curler near the roots of lashes.
Squeeze curler gently on the lashes and hold in place for several seconds.
Repeat several times in outward and upward direction to achieve desired curl.