Product description
– Are you looking for an all-natural supplement that boosts your energy, supports fat loss and helps detox heavy metals like lead and mercury from your body? If so, a freshwater algae called chlorella may be exactly what you need.
– Native to Taiwan and Japan, this superfood is rich with phytonutrients, including amino acids, chlorophyll, beta-carotene, potassium, phosphorous, biotin, magnesium and the B-complex vitamins.
– Chlorella is a blue-green algae like its cousin spirulina, and we will compare the nutrients of these superfoods.
– Studies have shown that chlorella benefits the entire body by supporting healthy hormonal function, promoting cardiovascular health, helping to negate the effects of chemotherapy and radiation, lowering blood pressure and cholesterol, and aiding in the detoxification of our bodies.

Features and Benefits
1. Detoxifies Heavy Metals
– One of chlorella's most significant health benefits is that it wraps itself around even stubborn toxins residing in our bodies, such as lead, cadmium, mercury and uranium, and keeps them from being reabsorbed. Regular consumption of chlorella can even help keep heavy metals from accumulating in our bodies' soft tissues and organs in the first place.
2. Detoxifies Radiation and Chemotherapy
– Chlorella's high levels of chlorophyll have been shown to protect the body against ultraviolet radiation treatments while removing radioactive particles from the body.
3. Supports Your Immune System
– The results showed that chlorella supports a healthy immune system response and helps "natural killer" cell activity.
4. Promotes Weight Loss
– Chlorella benefits you by helping to regulate hormones, helping with metabolism, improving circulation, and promoting higher levels of energy. It also helps to reduce weight and body fat, and removes stored toxins.
5. Makes You Look Younger
– The reason chlorella is so effective at giving you younger looking skin is because it naturally increases levels of vitamin A, vitamin C and glutathione in your body which eliminates free-radicals and protects your cells.
– By just taking 1 teaspoon or a couple capsules daily of a chlorella supplement, you can see results in as little as 2 weeks.
6. Fights Cancer
– Chlorella can help to fight the side effects and be used in addition to natural cancer treatments.
7. Lowers Your Blood Sugar and Cholesterol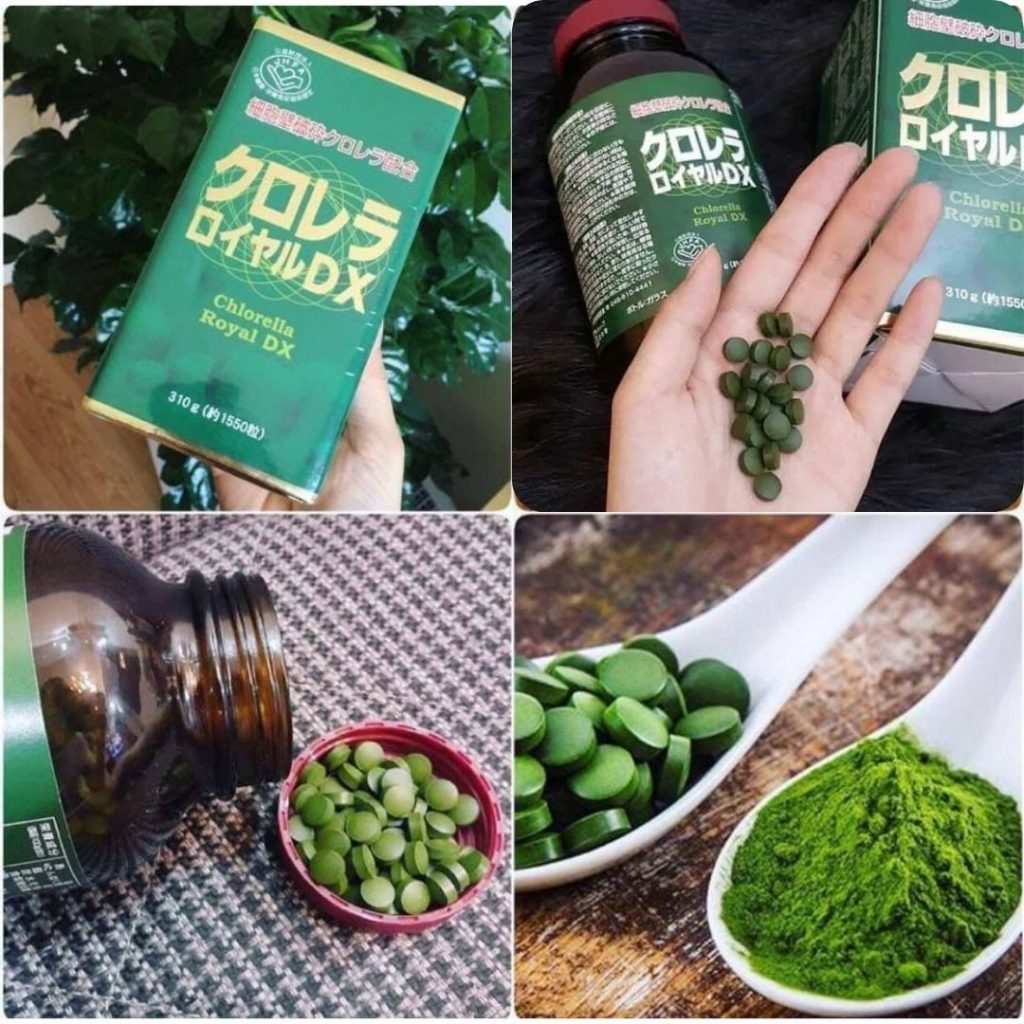 How to Use:
When taking a chlorella supplement, there are two main ways to consume it.
1. Smoothie—Chlorella has a very strong taste and so you will want to add about 1/2 tsp of chlorella to a smoothie with banana, coconut water, vanilla protein powder and lime juice to help hide the taste.
2. Tablets—Simply take 3-6 tablets of chlorella with 8oz of water 1-3x daily to experience chlorella health benefits
Notes:
– Keep in the cool, avoiding direct sunlight and moisture.
– Avoid direct sunlight, high temperatures or high humidity because Chlorella is easy to change by temperature, humidity, light, and keep it in a cool place.
– Due to high moisture absorption after opening the lid firmly close and store in a cool place, as soon as possible enjoy.

Ingredients
– A 1-ounce (3 tbsp) serving of chlorella contains:
Protein—16g
Vitamin A—287% RDA
Vitamin B2—71% RDA
Vitamin B3—33% RDA
Iron—202% RDA
Magnesium—22% RDA
Zinc—133% RDA
In addition, chlorella contains a good amount of vitamin B1, vitamin B6 and phosphorus.
– When you look at its nutrient density score, it's easy to see why chlorella is ranked one of the top 10 health foods in the world. In fact, it is way more nutrient dense per gram thanother greens, including kale, spinach and broccoli!