Product description :
Principle of action: Continuously emit harmless chlorine dioxide through the action of air to decompose the surrounding air Contains viruses and bacteria.
The product will react with the air and begin to work as soon as it is removed from the outer pack, be sure not to open or puncture this pack until you are ready to use it.
Emergency virus measures! Protect you from epidemic viruses and pollen!
Remove the virus in the space just by putting it on your neck!
When opened, the chlorine dioxide compound removes and removes bacteria and bacteria that are floating around
Removal of space with chlorine component! Removal of viruses and bacteria around trains, offices, schools, hospitals, nursing homes, etc.

Features :
Suitable for a variety of scene spaces, work, bus, school can be worn.
Continuous protection for 30 days.
Strong physical sterilization, strong decomposition at all times.
Natural materials, safe and secure use.
Small size, easy to store.
Reduce the chance of being infected and infecting others.
After wearing the body, a protective layer is formed in 3D within one meter.
Effective barrier: fine suspended particles, anti-pollen allergy, deodorant, smoke, anti-flu, allergen, nasal sensitivity, nitrogen dioxide, dust.
Colorless, tasteless, non-toxic Suitable for babies, children, pregnant women and the elderly.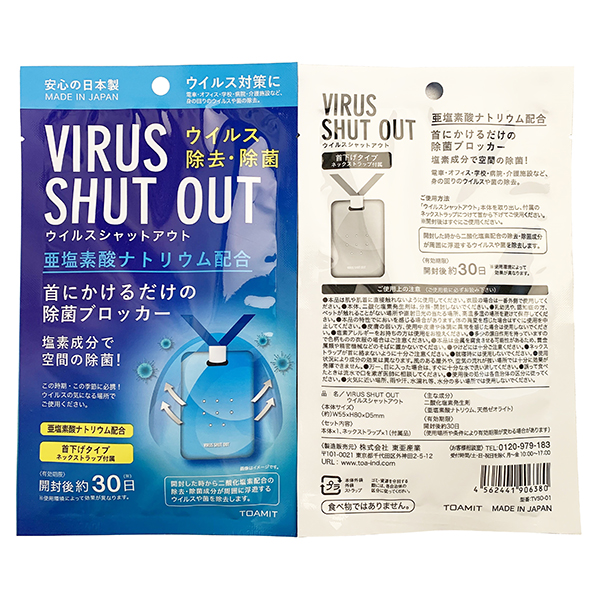 How To Use :
Can be worn on the neck or worn on a chest pocket.
The validity period after opening is 30 days.
The unopened shelf life is 12 months.
Precautions
Please do not directly contact this product with your skin or intimate clothing. Please use it on the outermost clothing.
For direct use, please do not open the chlorine dioxide preparation.
It should be placed in an inaccessible position for infants, pets, and patients with cognitive impairment. Avoid direct sunlight, high temperature and humidity during storage.
Do not use during sleep.
If you accidentally eat, please rinse your mouth immediately and consults a doctor.
Please refrain from using it if you are allergic to chlorine dioxide.
If you have any abnormalities such as redness, swelling, itching, or irritation after use or after use, please stop using it and consult a skin specialist.