Product description
TRANSINO CLEAR WASH has been awarded for the best face wash products in 2017 on the Best Cosmetics Awards by @cosme, the most influential website for Japanese beauty industry. Transino is a skincare range by Daiichi Sankyo Healthcare, one of the biggest medical companies in Japan. The medicated face wash has creamy texture, and helps removing old skin cells, freckle and skin spot and brightening up the skin tone.
This medicinal facial cleanser has a small foam that sticks to the skin, removes excess keratin and dark areas of the pores, and washes out the translucent and shiny skin. Contains 50% moisturizing ingredients, medicinal anti-rough ingredients, and vitamin C. Low irritation, no fragrance, no coloring, and allergy testing.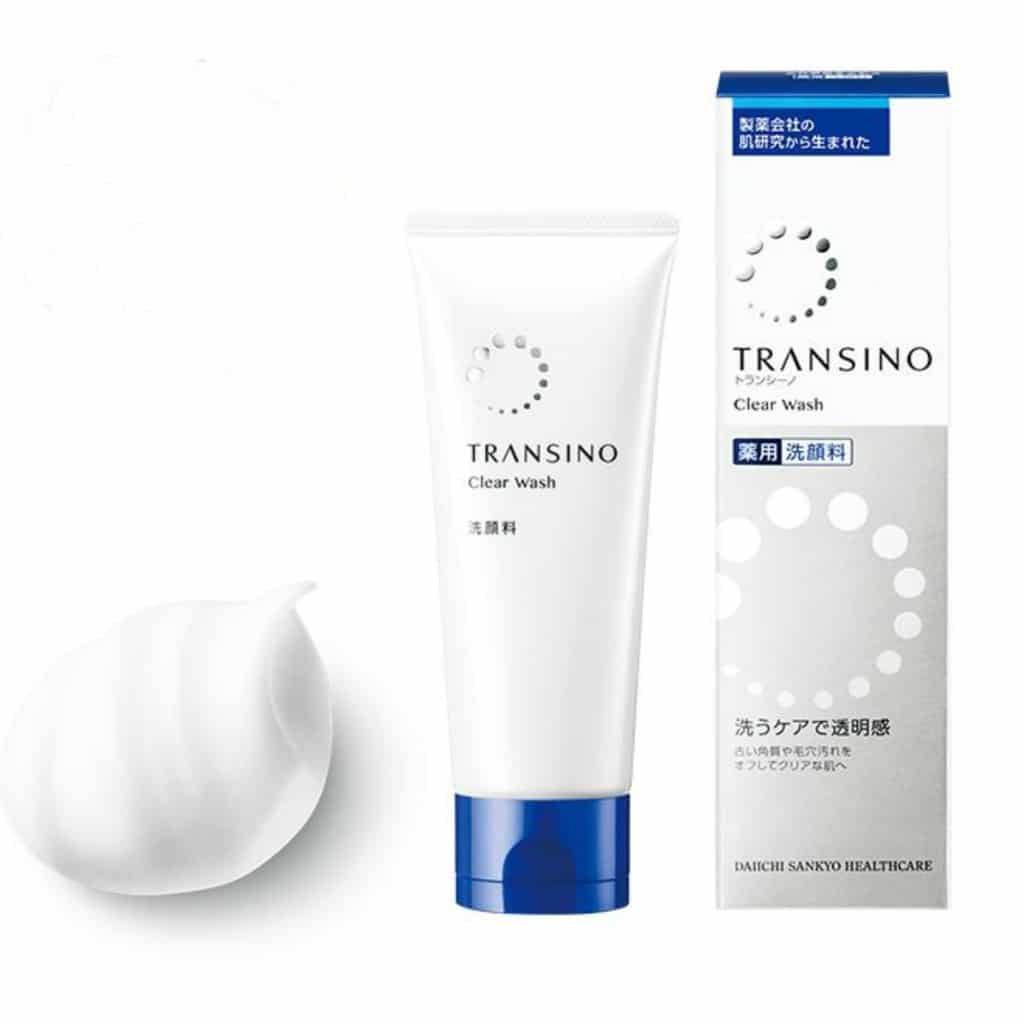 Benefits
Fine foam adheres to the skin, removes extra dead skin hair and darkening of pores.
To the bare skin with transparency easy to adapt to the cosmetic used next.
Medicinal rough skin preventing ingredients (dipotassium glycyrrhizinate).
Vitamin C, Akakeaekisu blended.
Formulation of stratum corneum refinement ingredients.
Prescription thinking about the gentleness to the skin.
How to Use
Take an appropriate amount in your palm and whisk carefully while adding a small amount of water or lukewarm water, carefully wash it then rinse thoroughly afterwards.
Estimated amount of use: about 1.5cm in length.

Main Ingredients
Glycyrrhizinic acid 2K, Ascorbic acid 2-glucoside, extract from mokutosu, trehalose sulfate Na, polymethacryloyloxyethyl phosphorylcholine solution, water, glycerin, maltitol solution, orange flower water, glycerin fatty acid ester adipic acid Condensate, cetanol, BG, stearic acid, myristic acid, lauric acid, alkyl glycoside, POE glyceryl isostearate, acrylic acid dimethyldiallyl ammonium chloride acrylamide copolymer solution, polyoxybutylene polyglycerin stearyl ether, carboxymethylcellulose Na, chloride Dimethyldiallyl ammonium acrylamide copolymer, 2Na phosphoric acid, K hydroxide