Product description
Lactic acid bacteria synthesize antibacterial substances that are not allowed to develop pyogenic microorganisms. And it is not only their function in maintaining a healthy microflora. With their participation, the synthesis of amino acids, the absorption of calcium and vitamin D. they Also regulate the level of acidity.
Calcium is in the human body one of the first places for the quantitative content and plays a pivotal role. It is contained in teeth and bones, plays an important role in the process of metabolism, plays a major role in the transmission of impulses in nerve cells.
Snack to the supplicant ZOO lactic acid + calcium + D 150 grain is, per two tablets of lactic acid bacteria 2 billion, is a tablet that contains calcium 230mg, the vitamin D5mg. Delicious chewable chewing without water.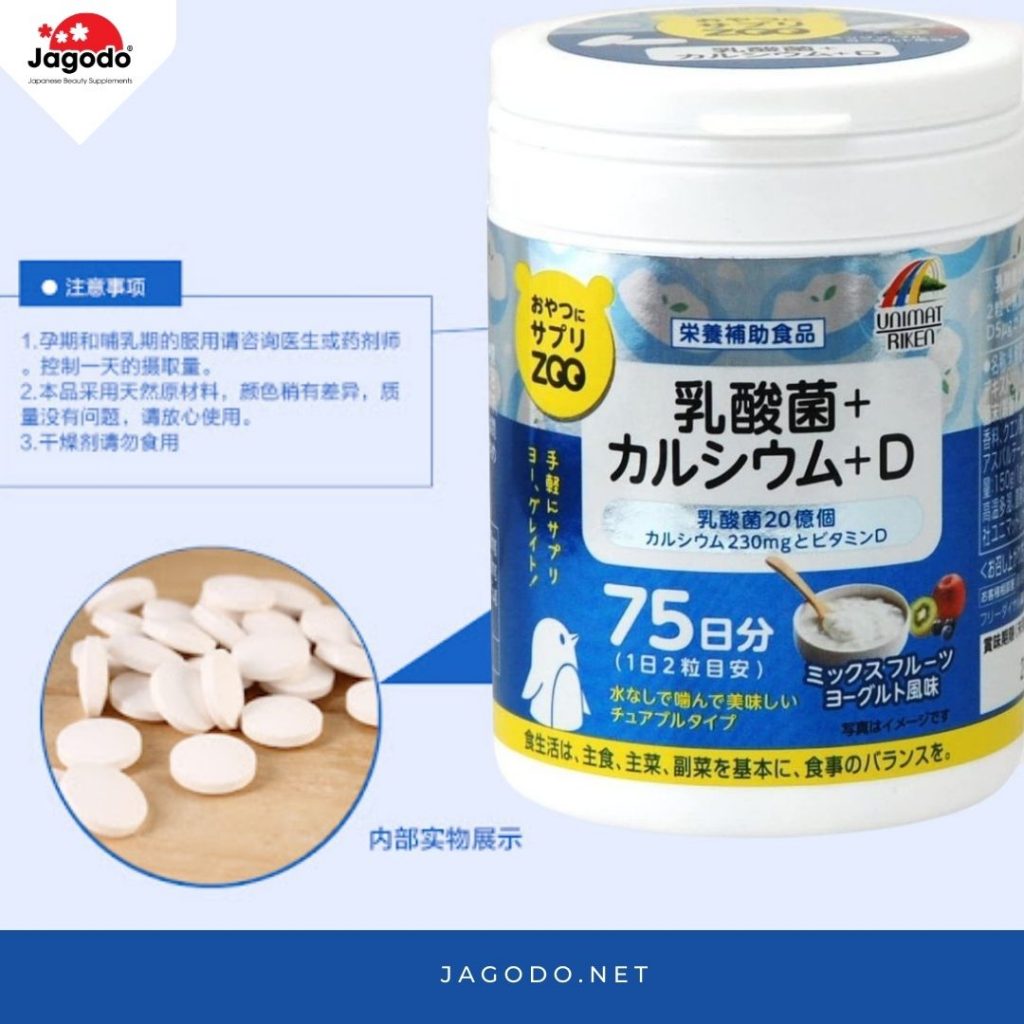 Features and Benefits
Dietary supplements Chewable type mixed fruit yogurt flavor that is delicious to chew without water
A mixed fruit yogurt-flavored tablet that allows you to ingest 2 billion lactic acid bacteria, 230 mg of calcium, and 5 μg of vitamin D with 2 tablets.
Easily take nutrients and ingredients you want to supplement.
For those who want to take lactic acid bacteria and those concerned about lack of calcium.
Calcium to build and maintain strong bones.
Your heart, muscles and nerves also need calcium to function properly.

How to use
Please enjoy a day 2 tablets always chewing a guideline.
It is a chewable tablet that can be chewed without water.
Precautions for use
Be careful not to clog your throat.
Since we use natural products, the color may change in rare cases, but there is no problem with the quality.
If it does not fit your body, discontinue use.
Storage and handling
Store in a cool and dark place away from high temperature and humidity and direct sunlight.
After opening, close the lid tightly and store, and consume as soon as possible.

Ingredients
Glucose, maltodextrin, sterilized fermented milk powder (dextrin, skim milk powder), lactic acid bacteria powder (sterilized lactic acid bacteria, dextrin), shellfish calcium, crystalline cellulose, fragrance, citric acid, silicon dioxide, calcium stearate, sweetener (aspartame L- Phenylalanine compound), vitamin D
NUTRITION
Energy per day 2 capsules (2g): 5.26kcal
Protein … 0.02g
Lipid 0.03g
Carbohydrate … 1.22g
Sodium … 2.52mg
Calcium … 230mg
Vitamin D ・ ・ ・ 5μg